Fleet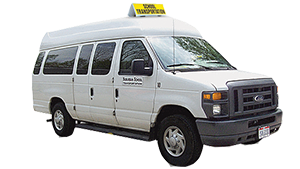 Our Fleet
Suburban School Transportation maintains a fleet of clean, professionally-serviced passenger vans, including over 40 lift vans that meet strict ADA requirements. Our Ohio Department of Education compliant vans are the most cost-effective way to transport special needs students throughout the many communities we serve. As a transportation provider, we are dedicated to reducing our environmental impact through a wide range of
"Green" initiatives.
Recycling
Our Fleet Maintenance Department recycles all used motor oil and antifreeze through a certified vendor. Our battery exchange program ensures that old batteries are dismantled and recycled per state and federal laws.
Efficient Routing
Advanced GPS technology installed throughout our fleet allows us to analyze route efficiencies carefully, which has resulted in reduced overall fuel consumption and longer service life for our vehicles.
Vehicle Safety Equipment
We equip all of our vehicles with the following Ohio Department of Education mandated safety equipment, and train our drivers in the proper handling of all safety equipment:
Reflective Triangles
First Aid Kit
Bodily Fluid Kit
Emergency Flares
Fire Extinguisher
Fleet Maintenance
Our Fleet Maintenance Department is oversees a rigorous preventative maintenance routine. Additionally, all of our vehicles are required to pass two State-mandated inspections per year conducted by an ASE Certified Technician.
Vehicle Accessibility
Many of our vans are wheelchair accessible and feature the latest safety equipment. Safe loading and unloading training is mandatory for all lift van drivers.
---
What Can Suburban School Transportation Do For You?
Unlike other transportation companies, our student-focused philosophy aims to create the best possible experience for students, which in turn benefits parents, teachers, and school administrators.